Recipes
Brown Rice Balls with Sweet Chili Glaze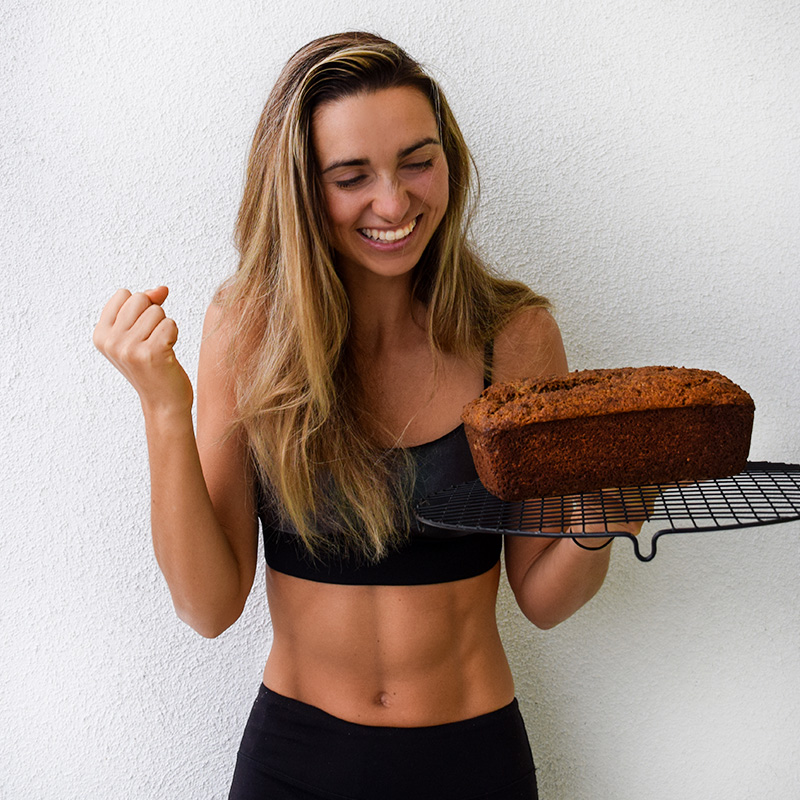 Valentina P
Difficulty

•

Time 30" (plus chill time)
These rice balls are a wonder. Tender brown rice is mixed with a 'cheesy' sautéed onion blend, shaped into balls, pan-fried, and then glazed in a spicy-sweet sauce. Every bite is crunchy on the outside and soft on the inside. No eggs or breadcrumbs needed. This recipe was inspired by the infamous rice balls found at Erewhon Market of Los Angeles.
How To MakeDiet Type: Plant-based
---
Shopping List
Rice Balls

1 1/2

cups cooked sticky brown or white rice, warmed (Note 1)

3/4

cup brown onion, diced

1/2

cup non-dairy shredded mozzarella cheese

1

handful fresh spinach, chopped

1

teaspoon cooking oil

1

teaspoon dried basil

1/2

teaspoon garlic powder

1/2

teaspoon salt
black pepper, to taste Sweet Chili Sauce

3

tablespoons granulated sugar

2

tablespoons rice vinegar

1

tablespoon olive oil

1

tablespoon water

1

teaspoon sriracha

1/2

teaspoon chili flakes

1/2

teaspoon salt

1/2

teaspoon tapioca starch

1/2

teaspoon cold water
---
Instructions
Step 1: Combine all of the Sweet Chili Sauce ingredients, except the starch and cold water, in a small saucepan. Bring the sauce to a simmer over medium-low heat. Separately, in a small bowl whisk together the starch and cold water to form a slurry. Pour the slurry into the simmering sauce, stirring constantly as you do so. Continue stirring the sauce for 10 to 30 seconds, until slightly thickened. Turn off the heat and transfer the sauce to a small bowl. It will continue to thicken as it cools.
Step 2: Heat the little bit of cooking oil in a frying pan over medium heat. Add the diced onion and cook, stirring frequently, for 5 to 7 minutes. The onion will be ready when it is soft and translucent.
Step 3: Add the shredded cheese to the onion and cook for 30 to 60 seconds, or until the cheese has begun to melt. Stir constantly to avoid burning.
Step 4: Transfer the cheesy onion mixture to a food processor. Pulse several times, until the onion mixture is well broken down (reference the images above for a visual guide).
Step 5: If using the steam-able rice as mentioned in the notes, cook it now as stated on the package. It should only take a few minutes in a microwave.
Step 6: Place the cooked rice in a large bowl. Add the warm onion mixture, spices, spinach, salt, and pepper. Mix everything together until it's all well combined and sticky.
Step 7: Wet your hands with warm water and shape the rice mixture into golfball-sized balls. Lay the balls on a flat surface. Keep lightly wetting your hands as needed to prevent sticking. If the balls are not holding together, try warming up the mixture in a microwave and trying again - if the cheese has solidified, it will not hold as easily.
Step 8: Place the formed rice balls in the refrigerator for at least 30 minutes to firm up.
Step 9: Coat a frying pan with a light layer of cooking oil and heat over medium-high. Once hot, add the rice balls in a single layer. Separate the balls into batches as needed, to avoid overcrowding the pan. Fry the balls in the oil for about 2 minutes per side. The sides should be golden brown and crispy. Add more oil as needed to prevent sticking. Place the cooked balls on a paper-towel lined plate.
Serve: Lightly coat the rice balls in the sweet chili sauce and enjoy. Use any additional sauce as a dip.
---
Recipe Notes
Note 1: Microwaveable steam packs of rice work best for this recipe. Not only does it make the cook time shorter, but it also makes the rice stickier when shaping the balls. If cooking the rice yourself, make sure the rice is sticky enough to hold between your fingers when pressed together. Non-sticky rice will not hold the ball shape.
Nutrition
Dig it? Leave a review
Your feedback helps us offer better suggestions for you.
No comments yet
Your photo has been archived.
Brown Rice Balls with Sweet Chili Glaze
PT30M
1 1/2 cups cooked sticky brown or white rice, warmed (Note 1)
3/4 cup brown onion, diced
1/2 cup non-dairy shredded mozzarella cheese
1 handful fresh spinach, chopped
1 teaspoon cooking oil
1 teaspoon dried basil
1/2 teaspoon garlic powder
1/2 teaspoon salt
black pepper, to taste
3 tablespoons granulated sugar
2 tablespoons rice vinegar
1 tablespoon olive oil
1 tablespoon water
1 teaspoon sriracha
1/2 teaspoon chili flakes
1/2 teaspoon salt
1/2 teaspoon tapioca starch
1/2 teaspoon cold water
Gluten Free
Vegan
4
Servings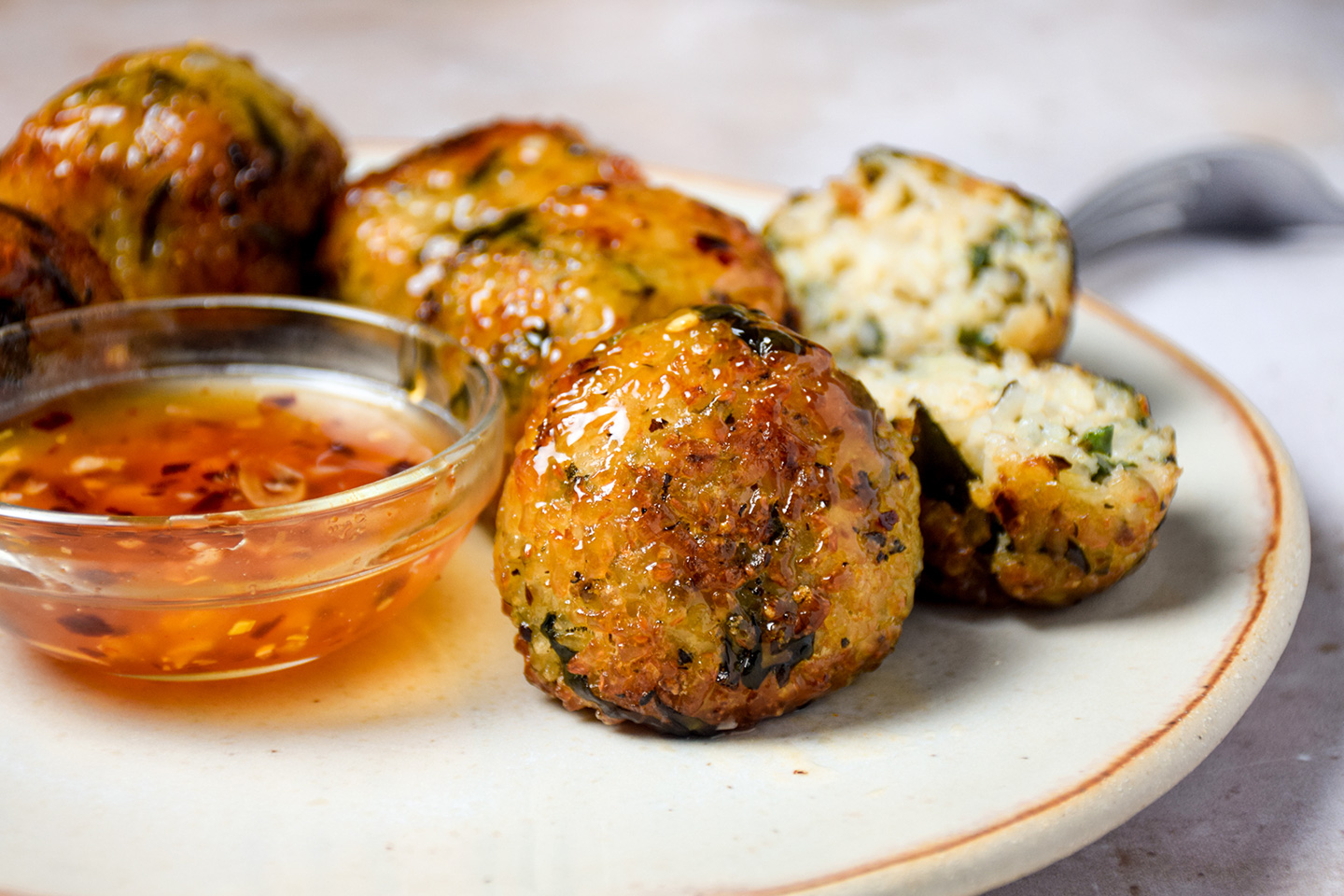 Ingredients: