Recipes
Vegan Red Curry Meatballs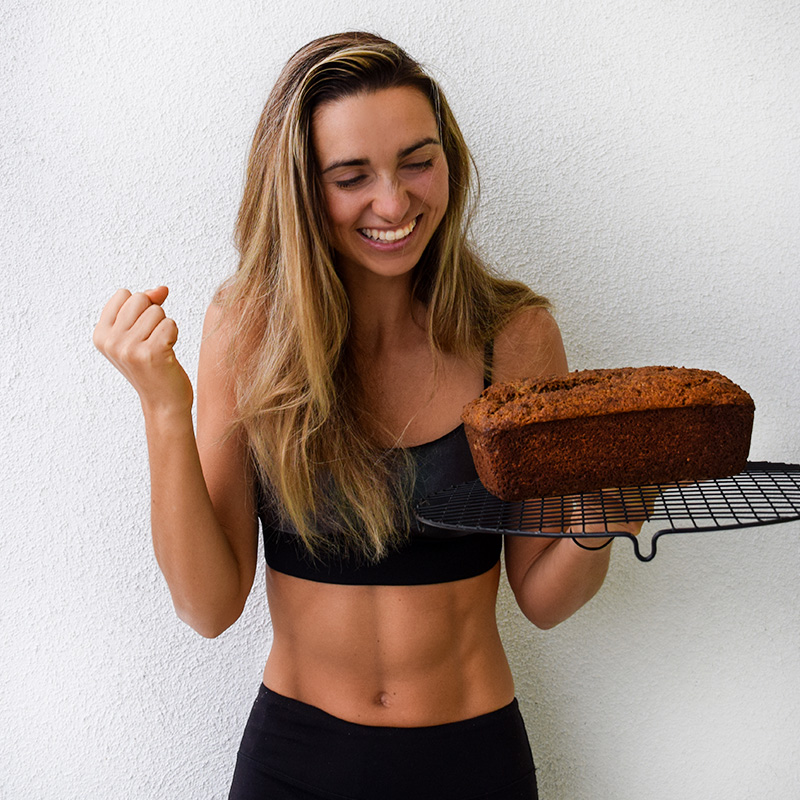 Valentina P
Difficulty

•

Time 40"
A richly spiced red curry broth is the perfect accompaniment to tender chickpea 'neatballs'. It's spicy, hearty, and deeply flavorful. There are a few steps, but it's well worth the effort. Serve this alongside sautéed romaine or bok choy and a bowl of warm rice for a knockout meal. Leftovers taste even better the next day.
How To MakeDiet Type: Plant-based
---
Shopping List
Neatballs

1

(15 ounce) can chickpeas, drained and rinsed

1 1/4

cups cooked brown or white rice

1/4

yellow or brown onion, diced

1/2

cup carrot, diced

3

lemongrass stalks (Note 1)

2

garlic cloves, minced

1/4

cup fresh cilantro

1/2

tablespoon cooking oil

1/2

tablespoon tamari

1

teaspoon fresh ginger, minced

1

teaspoon red curry paste

1

lime, zested (optional)
additional cooking oil, for frying the meatballs Curry Broth

1

(15 ounce) can full-fat coconut milk

1

cup carrot or red bell pepper, chopped

1/4

yellow or brown onion, diced

3

tablespoons red curry paste

1

tablespoon fresh ginger, minced

1

tablespoon tamari

1

tablespoon coconut sugar

1

lemongrass stalk (Note 1)

1

handful cilantro leaves

1

lime, juiced
---
Instructions
Step 1 (Neatballs): Prepare the lemongrass for the meatballs by cutting off the tops and leaving the bottom 5 inches of stalk only. Peel off the hard outer layer. Then smash the lemongrass with the side of a knife to help release the flavor. Mince the white parts of the lemongrass into small pieces (reference the images above for a visual aid). Set aside.
Step 2 (Neatballs): Add the

1/2

tablespoon of cooking oil to a wide frying pan over medium heat. Add the diced onion, carrot, ginger, garlic, and minced lemongrass. Cooking for 3 to 5 minutes, stirring often. The mixture will be ready when the vegetables have softened. If it's starting to brown too quickly, turn the heat down.
Step 3 (Neatballs): Let the onion mixture cool a few minutes before placing it in a food processor. Pulse until it's a chunky mix, scraping the sides of the processor with a spatula as needed. Once combined, add in the cilantro, rice, and drained chickpeas. Pulse until it is a chunky mix, it should hold together when you form it into a ball.
Step 4 (Neatballs): Once combined, add in the rice, drained chickpeas, cilantro, curry paste, and tamari. Pulse until it is a chunky mix, it should hold together when you form it into a ball.
Step 5 (Neatballs): It's time to shape the meatballs! Wet your hands with a little water to help prevent sticking and roll the chickpea blend in your hands to be the size of a golfball. Don't make them too large. Place the chickpea ball on a plate and continue this process with all of the remaining batter. You should have around

12

meatballs. Keep wetting your hands lightly as needed to prevent sticking. Place the prepped chickpea balls in the refrigerator, from 30 minutes to overnight.
Step 6 (Neatballs): Heat a thin layer of cooking oil in a wide frying pan over medium-high heat. Once shimmering, add the chickpea balls, one at a time. They should sizzle on contact with the oil. Place the meatballs in a single layer in the pan. Sear the meatballs in the oil on all sides, gently flipping them over with a spatula. This will take 6 to 8 minutes. We are looking to give them a nice golden brown sear on all sides. Remove from the frying pan onto a plate once seared.
Step 7 (Curry): It's broth time! Trim the lemongrass stalk(s) down and bruise it by pressing on it with the side of a large knife, until it flattens a bit. Cut the stalk into sections. Set aside.
Step 8 (Curry): Now we are going to reduce our coconut milk. Place the frying pan over medium heat. Shake the can of coconut milk. Once hot, add

1

cup of coconut milk to the pot. Give it a stir and allow the coconut milk to cook for about 5 to 8 minutes. Keep an eye on it to avoid burning. When it's ready, it will have cooked down to become quite thick. The coconut milk should look like it's beginning to separate at the edges of the pot (don't worry if it's not, proceed with the recipe).
Step 9 (Curry): Add the curry paste to the thickened coconut milk. Stir it together with a spatula for 1 minute. It should be very fragrant.
Step 10 (Curry): Add the onions, vegetables, and ginger to the curry paste. Stir to combine. Now add the remaining coconut milk, tamari, and coconut sugar. Stir. Place the bruised lemongrass stalks in the broth. Bring the curry back to a simmer over medium-high heat. Once simmering, cover the pan and lower the heat to medium so that it is lightly simmering. Continue cooking for 5 to 7 minutes, or until the onions are tender.
Step 11 (Curry): Add the seared chickpea balls into the curry, in a single layer. Cover them gently with the sauce. Turn off the heat and allow the curry to sit, covered, for 5 more minutes. Uncover the curry and add the cilantro and lime juice. Give it a gentle stir to combine. Pick out the lemongrass stalks.
Serve: Ladle out the curry into bowls and enjoy.
---
Recipe Notes
Note 1: If you cannot find lemongrass, just omit it and this recipe will still taste great. But if you can find it, it does add additional flavor. Note 2: Check the ingredients label on your red curry paste before purchasing, as some curry pastes contain shrimp or fish paste.
Nutrition
Dig it? Leave a review
Your feedback helps us offer better suggestions for you.
No comments yet
Your photo has been archived.
Vegan Red Curry Meatballs
PT40M
1 (15 ounce) can chickpeas, drained and rinsed
1 1/4 cups cooked brown or white rice
1/4 yellow or brown onion, diced
1/2 cup carrot, diced
3 lemongrass stalks (Note 1)
2 garlic cloves, minced
1/4 cup fresh cilantro
1/2 tablespoon cooking oil
1/2 tablespoon tamari
1 teaspoon fresh ginger, minced
1 teaspoon red curry paste
1 lime, zested (optional)
additional cooking oil, for frying the meatballs
1 (15 ounce) can full-fat coconut milk
1 cup carrot or red bell pepper, chopped
1/4 yellow or brown onion, diced
3 tablespoons red curry paste
1 tablespoon fresh ginger, minced
1 tablespoon tamari
1 tablespoon coconut sugar
1 lemongrass stalk (Note 1)
1 handful cilantro leaves
1 lime, juiced
Gluten Free
Vegan
4
Servings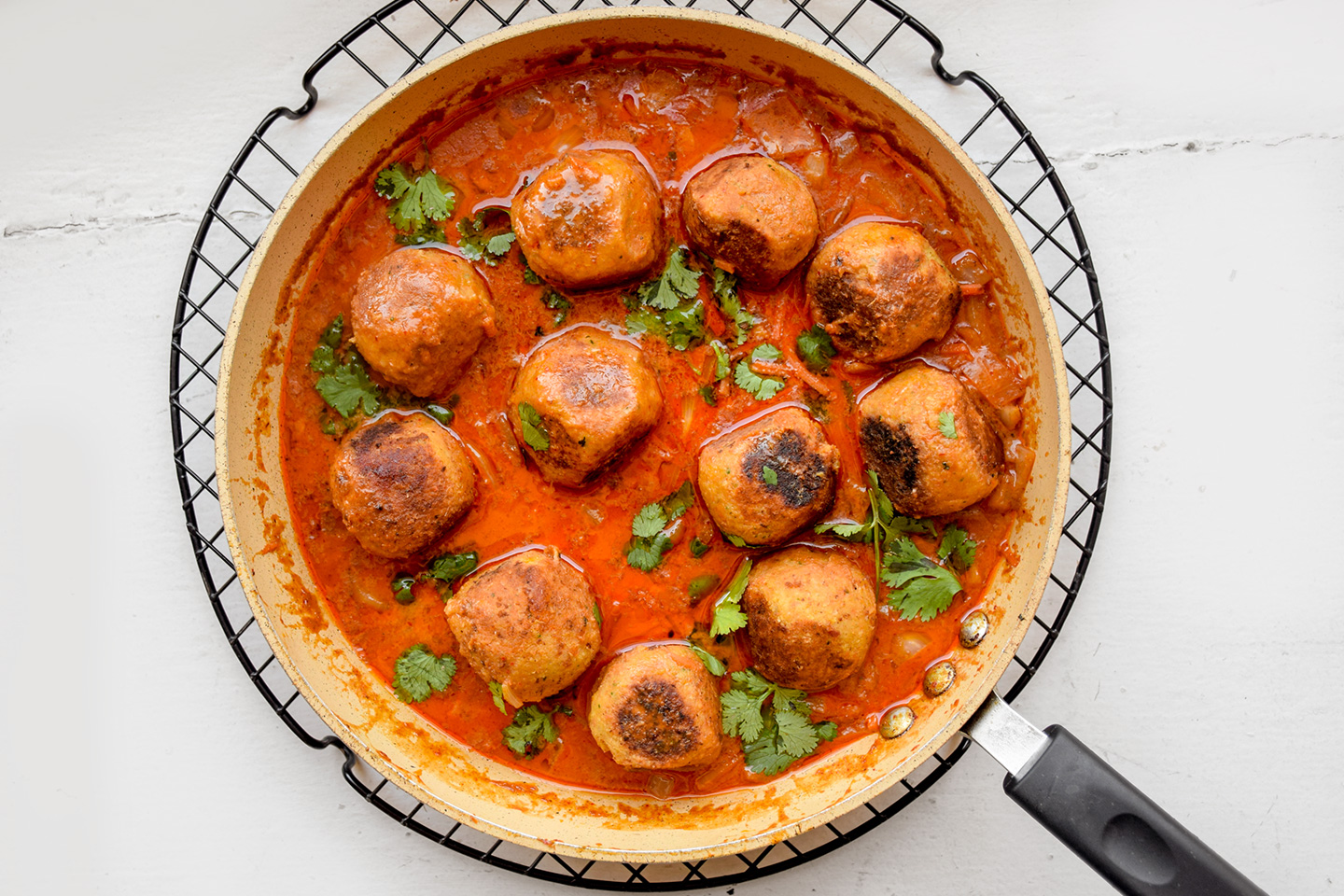 Ingredients: