Recipes
Candied Walnut and Apricot Kale Salad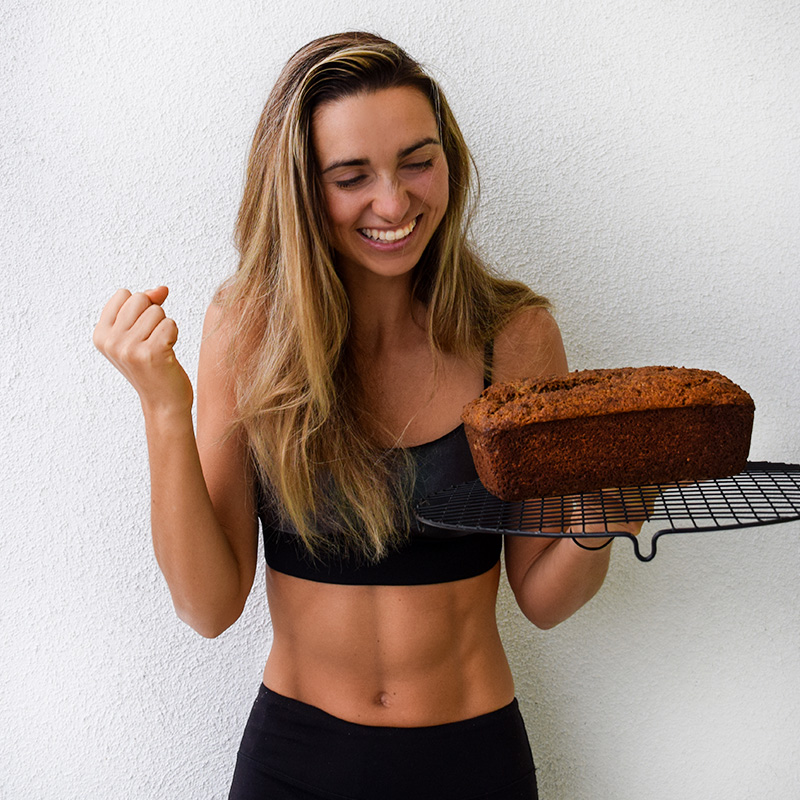 Valentina P
Difficulty

•

Time 25"
This summery, revitalizing salad will make you reconsider what you thought a kale salad could be. It's filled with flavor from fresh apricots, ultra thin radish slices, cucumber, candied walnuts, and a lemon-ginger vinaigrette. The addition of celery leaves adds the perfect hint of refreshing celery flavor without the crunch.
How To MakeDiet Type: Paleo
---
Shopping List
Salad

2 1/2

ounces baby kale or spring mix (about

4

handfuls)

1

big handful celery leaves (Note 1)

1/2

heaping cup sliced fresh apricots, kumquats, or cantaloupe (Note 2)

1/2

cup thinly sliced seedless cucumber

2

radishes Candied Walnuts

1/2

cup walnuts

1

tablespoon honey (or brown rice syrup or maple syrup) Detox Dressing

2

tablespoons extra virgin olive oil

1

tablespoon apple cider vinegar

1

tablespoon lemon juice

1/2

tablespoon honey

1

teaspoon fresh ginger, peeled and chopped

1/2

teaspoon dijon mustard

1/8

teaspoon salt
---
Instructions
Step 1: Prepare the salad dressing. Combine all of the dressing ingredients in a wide mason jar and blend with an immersion blender until smooth. You can also whisk this by hand, but be sure to very finely chop the ginger for best results. Refrigerate until ready to use.
Step 2: Preheat the oven to 325°F. Stir the walnuts with the honey in a small bowl. It will be very sticky, but try to coat all of the nuts. Add a little more honey if needed. Spread the walnuts onto a parchment-lined baking sheet (aluminum foil does not work as well here). Use your hands to separate the nuts that have clumped together.
Step 3: Bake for 7 to 9 minutes, or until the walnuts are slightly bubbling and golden. Remove from the oven and let cool. Use your hands to pry the cooled nuts from the parchment. Set aside.
Step 4: Chop the radishes in half and use a vegetable peeler to peel paper-thin slices of the radishes. Thinly slice the remaining cucumber and fruit with a knife.
Step 5: Assembly time! Place the kale or spring mix in a mixing bowl and add an optional small drizzle of olive oil and a pinch of salt. Stir to coat the leaves and then add in all of the remaining salad ingredients: celery leaves, fresh fruit, cucumber, radishes, and candied walnuts.
Serve: Drizzle in the salad dressing, to taste, and toss. Enjoy with extra dressing served on the side. If preparing ahead of time, add the dressing and walnuts right before serving.
---
Recipe Notes
Note 1: Celery leaves are the small leaves at the top of a celery stalk. Many times, you'll find them in the center of a bunch of celery. If you can't find celery leaves (they're really nice in this salad), try substituting with 1/2 cup of very thinly sliced celery. Note 2: No fresh summer fruit available? Try substituting with 1/3 cup of sliced dried apricots.
Nutrition
Dig it? Leave a review
Your feedback helps us offer better suggestions for you.
No comments yet
Your photo has been archived.
Candied Walnut and Apricot Kale Salad
PT25M
2 1/2 ounces baby kale or spring mix (about

4

handfuls)
1 big handful celery leaves (Note 1)
1/2 heaping cup sliced fresh apricots, kumquats, or cantaloupe (Note 2)
1/2 cup thinly sliced seedless cucumber
2 radishes
1/2 cup walnuts
1 tablespoon honey (or brown rice syrup or maple syrup)
2 tablespoons extra virgin olive oil
1 tablespoon apple cider vinegar
1 tablespoon lemon juice
1/2 tablespoon honey
1 teaspoon fresh ginger, peeled and chopped
1/2 teaspoon dijon mustard
1/8 teaspoon salt
Gluten Free
Paleo
Vegan
3
Servings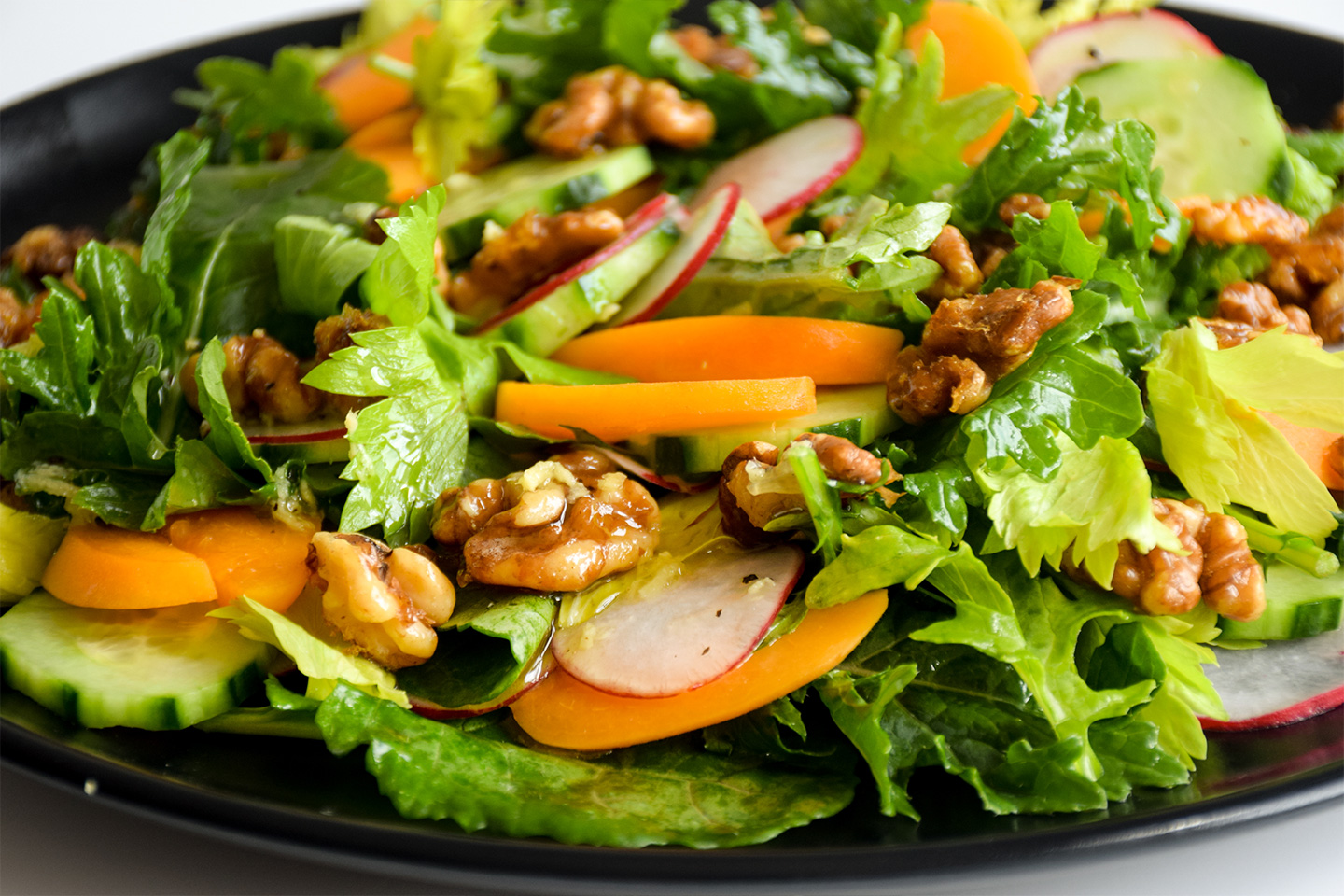 Ingredients: